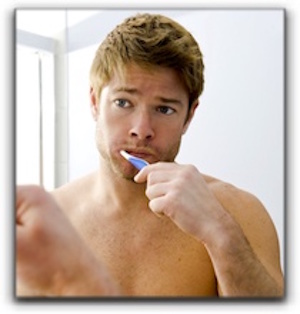 Regular dental check-ups and cleanings are critical for prime dental health. However, some dental patients worry because their gums tend to bleed after a thorough cleaning.
Is this a problem? Well, it depends. If your gums bleed for a day or two, you don't need to be concerned. But, if the bleeding and tenderness last�longer, you really need to return to your dentist and the possibility of gum disease.
Gum disease ensues when plaque builds up along the gum line. You might also notice bad breath, painful chewing, and loose teeth.
At Jim Erpenbach DDS in Knoxville, avoiding gum disease is just one of the many important goals we have for our patients. Along with ideal dental health, we also seek to give our patients the unforgettable smiles they desire through cosmetic dentistry.
Some effective procedures include porcelain veneers, dental crowns, dental bonding, teeth whitening, inlays/onlays, and tooth implants. If you want to correct several unattractive features in your smile, we can design a custom cosmetic dental smile makeover that includes a combination of these services. It is not an exaggeration to say that modern cosmetic dentistry performed with competence truly works miracles with your smile!
Our patients appreciate our comfortable office and caring staff. If you are looking for a local dentist with ability in preventative, general, and cosmetic dentistry, we invite you to schedule an informative consultation at Jim Erpenbach DDS in Knoxville.
Contact Jim Erpenbach DDS:
Location (Tap to open in Google Maps):