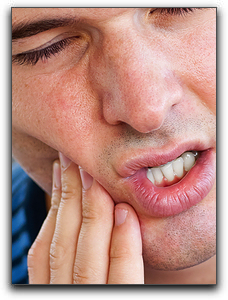 Are you suffering with a toothache, but ignoring the pain? Have you started chewing on one side of your mouth to avoid your sensitive teeth, or stopped drinking hot and cold beverages? Come see us. As we say at Jim Erpenbach DDS in Knoxville, dental pain is like an unpaid speeding ticket, ignoring it won't make it go away.
Many people dread seeking relief from a dentist because they fear the treatment will hurt worse than the pain they are experiencing. Waiting too long to care for your teeth can cause serious health troubles – and not just in your mouth.
Your smile can and should be your most attractive feature. Don't let dental distress keep you from gaining and maintaining a dazzling smile.
Let the caring dental team at Jim Erpenbach DDS in Knoxville treat that toothache, and restore and preserve your oral health. We provide family and cosmetic dentistry. Schedule an appointment with us today.
Contact Jim Erpenbach DDS:
Location (Tap to open in Google Maps):
ArticleID 3577