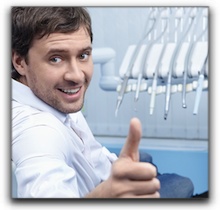 AtÂ?Jim Erpenbach DDS, we are constantly striving to provide Knoxville with outstanding oral health care needs, from family to cosmetic dentistry.Â?We want to keep families informed about how they can have healthy, beautiful smiles.
A central goal is to encourage everyone to develop more effective oral health habits, such as proper brushing and flossing. We also want to promote the use of quality dental products.
Cosmetic dentistry is another essential topic that we like to address. We offer a full menu of cosmetic dentistry services. Ask us aboutÂ?dental implants, teeth whitening, and veneers. We hope to share information with Knoxville residents on what these procedures can help you to get the beautiful smile that you've always wanted.
If you have any questions, please call us.Â?A member of our caring staff can schedule an appointment for you. Whether you want to know more about porcelain veneers orÂ?family dentistry, we can help.
Call today!
Contact Jim Erpenbach DDS:
Location (Tap to open in Google Maps):