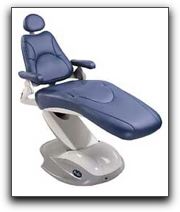 The most common way for people to find a dentist is to ask a friend or neighbor for a referral. In Knoxville, if you ask, "Do you know of a dentist who doesn't drill as much as others do?" then the answer is likely to be Jim Erpenbach DDS, who provides biomimetic dentistry.
Biomimetic dentistry is all about less drilling, greater patient comfort, and long-lasting results.� Jim Erpenbach DDS focuses on conserving a patient's teeth.
The basic philosophy is that less dentistry is the best dentistry. Biomimetic dentistry treats weak, decayed or broken teeth in a way that keeps them strong and protects them from bacterial invasion.
Sometimes, of course, there is no option but to drill. But in most cases, biomimetic dentistry seeks to build up teeth rather than drill them down. Tooth preservation is what it's all about.
At Jim Erpenbach DDS, we provide cosmetic and restorative dentistry, including dental implants. Biomimetic dentistry is less invasive than traditional dentistry. Call our Knoxville office to schedule an appointment.
Contact Jim Erpenbach DDS:
Location (Tap to open in Google Maps):