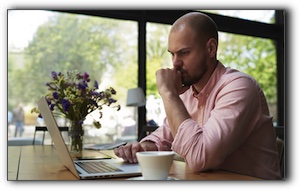 Dental patients are more informed than ever before and it's not surprising that much of their knowledge about oral health and dental treatment is gleaned from online sources. Proactive self-education can be beneficial for you and your family, especially if it assists in living a healthy lifestyle. But at Jim Erpenbach DDS, your Knoxville dentist, we caution our friends and neighbors to weigh online information with care.
Misconceptions about medical treatment in general and dentistry in particular began circulating long before the Internet changed everything. But the web has exponentially accelerated the speed and distance they can travel.
Some of the most common dental myths are focused on the safety of x-rays, the risk of root canals, the facts about fluoride, and the effectiveness of alternative practices such as oil pulling.
In worst-case scenarios, patients delay or avoid necessary dental treatment because of something they encounter online. We encourage our patients to discuss all areas of concern with Dr. Erpenbach. You can trust in Dr. Erpenbach for accurate information and quality care.
At Jim Erpenbach DDS in Knoxville TN, we are committed to keeping your smile healthy and beautiful for life. As a biomimetic dentist, Dr. Erpenbach is committed to tooth preservation and dental conservation. We provide family and cosmetic dentistry. Schedule an appointment today.
Contact Jim Erpenbach DDS:
Location (Tap to open in Google Maps):